~ Port St. Lucie Properties - Featured Property Showcase ~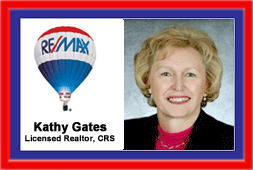 Kathy Gates,
Licensed Realtor, CRS
Cell: 772-979-0535
Out of State:1-800-979-0535
Fax: 1-888-335-0535

Email: Kathy@KathyGates.com
1762 SW St. Lucie West Boulevard
Port Saint Lucie, Florida 34986
A Certified Residential Specialist is trained
specifically to help you understand the
marketplace, negotiate successfully on 
your behalf and get a clear picture of a 
proposed transaction. The result is a more 
rewarding experience, whether you're 
buying or selling, or both.



My name is Kathy Gates and I am a Licensed Local Realtor, CRS (Certified Residential Specialist) in Port St. Lucie, Florida.
Just 4% of all REALTORS® in the U.S. can call themselves Certified Residential Specialists. That's because just one in 25 has the extensive experience, the unique commitment and the hours of advanced training necessary to call themselves a Certified Residential Specialist.
Yet, despite all the extra expertise you get, a Certified Residential Specialist doesn't cost any more than any other REALTOR®. In fact, the skills and know-how you get with a Certified Residential Specialist may actually save you time and money.
ABOUT MY CRS DESIGNATION - Today, home buying and selling is faster, more complex, and more competitive in every way. Our goal is to make the process a little easier for you. The first step is choosing the right REALTOR®.
EXPERIENCE - To earn the Certified Residential Specialist (CRS) Designation, every REALTOR® must have significant experience and volume of real estate transactions. ETHICS - Every CRS Designee is required to maintain membership in the NATIONAL ASSOCIATION OF REALTORS® and to abide by its strict Code of Ethics.
A FOCUS ON HOME BUYING AND SELLING - To help make the home buying and selling process more rewarding, every CRS Designee must have a proven track record in the business, as well as advanced education in related areas like finance, technology and marketing. Work with the top 4%
TECHNOLOGY EXPERTISE - The training available to CRS Designees includes a strong focus on technology and its applications in the real estate business.
~ Welcome to Our Featured Property Showcase~

305 N.W. Concord Drive
Port St. Lucie, Florida 34983
This truly unique Port St. Lucie pool home is a one-of-a-kind which was designed and custom-built for the owner. It is quite large but sits on the lot sideways so that from the street it looks smaller than it really is, but all those who enter are immediately surprised at the size and the amazing design and décor. Because it is build on pylons it is extremely resistant to high waters and high winds and has withstood four major Florida hurricanes with only damage to the roof and the screening around the pool, both of which have been newly replaced. If you love the artistic and unique and enjoy an environment which is both beautiful and very cozy, this is the home for you. This unique, custom-built 3 bedroom, 2 1/2 bath home with all solid oak plank flooring, vaulted ceilings in every room, built-in monitored security system, and fabulous wrap-around party pool and veranda is a definite MUST SEE!


Open concept living with 12-foot rough-hewn vaulted cedar ceilings. Living room/office, family room, dining area, and kitchen area view.


Cozy family room with custom graphics, grass cloth walls, vaulted 12-foot ceiling, and 3/4" hand-cut, tongue-in-grove solid oak plank floors.


The Master Bedroom is as cozy and warm as the Captain's cabin on an ocean cruiser with a rough cedar alcove for the king-sized bed, 3/4" solid oak, hand-cut, tongue-in-grove natural plank floors, vaulted ceiling, custom-made woven woods on the window and the patio door.


The Master Bedroom has all the comfort and security anyone would want including a full-capacity, central-monitored, Vista-20 wireless system with smoke detectors, heat detector, motion detector, glass-break, microwave backup in case of phone service loss, and remote key fob keypad and panic button. The Hunter Bahama fan overhead is operated by a wall switch.


The Master Bedroom has double-wide closets with louvered wooden doors which reach to the vaulted ceilings. There is a security system control panel in the Master Bedroom and a second one outside the room.


The Master Bedroom has a patio door slider which gives access to the veranda overlooking the pool and also to the garage door below. Laundry facilities are in the over-sized 2-car garage with new hurricane resistent garage door.


Bedroom 3 has carpeting, vaulted ceiling, and a solid wall of closets with a sliding mirror closet door.


The Middle Bedroom has carpeting, vaulted ceiling, custom graphics on walls, and two wooden louvered closets.

There are two full bathrooms, one in the Master Bedroom, one in the hallway, and a Guest Bathroom off the Family Room/ Den.
All bathrooms and the hallway have vaulted ceilings.


This gorgeous custom free-form pool, which wraps around the veranda like a lake, is newl-resurfaced and the screen enclosure is brand new and of exceptional strength and quality. Just imagine relaxing and sipping herbal tea on the veranda overlooking the pool in this tranquil slice of Heaven. (Please Continue to Next Page... Click Button Below)

---

---
This Site is sized for 800 x 600 and 1024 x 768 Monitor Resolutions and 24 or 32 True Color
Best viewed in Internet Explorer 6X or Netscape 7x and above

This Site Custom Developed © 8/2011
by Judith L. Stifel, Web Developer





If you have any problems with this site, please notify us.
Webmaster
---
All written and graphical materials on this site are copyrighted
© 2011 and may not be copied or reproduced without prior written permission.
All Rights are Reserved